Dietary Supplement Industry News
Free Dietary Supplement Samples
AI Sports Nutrition Free Samples
Samples Include:
Lemon or Raspberry Recover Pro (1 flavor)
3Z, HGHPro, Perform and a Turbo Stix (1 flavor of Turbo Stix)
Magic Matcha Sample (1 flavor)


**Samples are limited to one request per household in the USA only**
Featured Dietary Supplement and Nutrition Products
Strength + Endurance
CHANGING THE GAME,
THE RIGHT WAY.
MusclePharm® Assault™ is leading the charge as The Athletes' Choice for a pre-workout supplement that delivers results — Safely.
Unlike "stimulant-concentrated" formulas that hit hard and then leave you hanging like you just got mugged in a dark alley…Assault™ is there from start to finish.
Developed at the state of the art
…
SYNTHA-6™ ISOLATE
SYNTHA-6™ ISOLATE is BSN®'s latest ultra-premium protein powder, made with 100% isolate protein sources. A 50/50 blend of whey protein isolate and milk protein isolate (a high-quality source of slow-digesting casein), the formula's unique ISOLAST™ protein matrix delivers a mix of fast- and slow-release proteins that provide amino acids to fuel active muscles. Drinking SYNTHA-6™…
Popular Dietary Supplement and Nutrition Products
Product Description
If you love the smooth taste of almond butter, then this bar is for you. Made with a generous helping of real organic blueberries for an extra flavor and antioxidant punch. As one Zing fan states, "This bar is good enough to bathe in."
NO WHEAT, NO GLUTEN, NO SOY PROTEIN & KOSHER
We designed the Zing Bars so that our patients with Celiac Disease
…
New Dietary Supplement and Nutrition Products
MetaBolic Xtreme™
is designed to help you burn excess fat tighten up your trouble spots, suppress your appetite and give you the energy you need to get lean and preserve muscle mass. Food cravings will not seem so intense and the desire to eat or binge on fat promoting foods will seem to disappear. MetaBolic Xtreme™ will create a lifestyle easier than you ever dreamed possible. MetaBolic Xtreme™
…
SUPER FREAK

®

SUPPLEMENT
New SUPER FREAK®
is the most complete pre-workout formula of its kind! Every complex and ingredient found in SUPER FREAK® has a specific function to support physical and mental performance! The new SUPER FREAK® formula amplifies key muscular and neurological pathways that are critical to maximizing performance. Nothing is stronger, or more complete!
…
Dietary Supplement and Nutrition Press Releases
Creating "An Evolution of Convenience in Nutrition"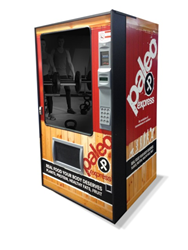 Santa Rosa, California (PRWEB) March 27, 2014
PaleoExpress announces delivery and installation of industry's first exclusive Paleo Diet vending machines, providing convenient access to nutritious and wholesome food on-the-go. Ease and availability are some of the biggest hurdles when trying to eat healthfully and maintain proper nutrition
…